In this interview with Delta State Radio Broadcasting service; Former National Secretary, Nigeria Environmental Society, (NES) and Pioneer Secretary of Association of Professional Bodies of Nigeria (APBN) Delta state chapter, Tpl Paul Akporowho Bares his mind on the significant roles inhabitants as stakeholders must play in allegiance with their lawmakers essentially from oil producing communities to push for an act that will compel oil explorers to pay for every pollution it would have caused on the oil-rich Region of Niger-Delta if it must survive the lingering issues of Environmental pollution of its ecosystem as a result of Pipeline vandalism and other alternative solution. Challenges of Meeting the demands of the Department of Petroleum Resources' cumbersome Criteria on Modular Refineries proposed by the Federal Government within Niger-delta, manmade and natural disaster. Other Discussion centred on Challenges on equity shares with Technical Partners on modular refinery with communities, Title Documents issues, contingency fund and what the inhabitants of the region are appealing for. Olusegun Ariyo Provides the excerpts
The politics of oil management in Nigeria is more complex, deeper than what some of us can imagine, therefore, it is the responsibility our inhabitants essentially in the Niger-Delta region to engage our legislators and stakeholders for us to ensure that our concerns for the challenges of pollution are enacted, guided under the principle of polluters pay by making it an act of the parliament. Paul Akporowho made this disclosure in a discussion With Topic: ''Impact On Oil Pollution on Niger-Delta environment'' with Delta State Broadcasting service on its regular interactive Programme with Theme "Clean And Beautiful Delta", a weekly Programme that pushes for sustainable environmental development of the state
Akporowho said if we have to weigh the consequences of the impact of the spill on our environment, the implication can be dire, saying every hand must just have to be on deck to ensure that oil spill becomes a thing of the past
"Like I said, the quantum of what is being spilled on that environment, more of it comes from human interference not necessarily equipment failure, and we know illegal refinery, oil theft is very rampant within the region of Niger Delta area although not particular to one particular settlement within the coast alone, there are other habitats with minimal land area with little population coming with close proximity to the creeks that are also vulnerable''
He said the contamination has now spread to its stream where the source of fresh water is derived which accordingly, is more dangerous starting from ortorogun stream.
''As we speak, those rivers identified are all polluted because we now have multiple camps that are being used for illegal refinery and oil theft''.
''Apart from the fact that the well-water is highly contaminated and the situation had reached an alarming stage, the rainwater for example in that area now is also being polluted where you have rainwater at PH level as low as 3.8 which indicates that the acidity of the rainwater is now very high, so we cannot consume our water from the surface, talk less groundwater and rainwater that is almost unfit for consummations much more so air pollution which comes through incineration of illegal modular refinery reactional implication with resultant effects of a lot of soot''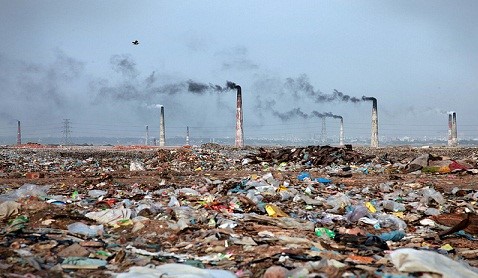 Citing example, Akporowho said In port-Harcourt for instance, we have a report that the illegal refinery has contributed drastically to what is happing there now, the state is battling with serious challenges of black soot and if the trend continues, back here in Delta state, with having various locations trending with illegal refinery, we may be having the same problem and additionally, we may be battling with respiratory problems for humans.
"The question is not about the desirability of stopping or continuing illegal refinery, it's about addressing the issues. The root cause of stealing of crude oil and the illegal refinery is in two-fold, firstly, people do not have means of livelihood even those that have to live on the environment are finding it unproductive since it has nothing to offer them. It's like what is happening around Lake Chad area, the inhabitants are now tying insurgency in that area to the dwindling and receding of the Lake Chad water area, and that's a fact''
His Words: Now that the river which happens to be major livelihood to the Niger Delta people is heavily polluted and that which is no longer providing viable means of livelihood, young people that are jobless are now finding alternative means of helping themselves by getting involved in this illegal refinery and theft of crude oil., however, in finding solution to this, Delta state has been in forefront, finding a lasting solution to this; it will interest you to know that since 2001 delta state government through Delta State Oil Producing Areas Development Commission (DESOPADEC) has invested a lot of money doing feasibility studies for modular refineries and they were to have three proposed locations; one in Ozorro, Escravous area and the other not yet decided on the choice of location .
I am aware also, that while we are doing our own feasibility studies, a neighbouring state went ahead and established under a company called Niger Delta Resources Development and as we speak, the company is producing one thousand Barrel of Diesel Per-day, and that others are still ongoing with associated products.
"Let me also say that sometime in 2015, we have about 25 approved licenses from federal government to establish modular refinery granted by the Department of Petroleum Resources (DPR) from the Niger Delta region except one that was given to Dangote refinery with the capacity to produce five hundred Thousand (500,000, 000) barrel per day with other associates products which is the only one out from Niger-Delta. But then, our challenge now is that having started as earlier as 2001 why haven't we made any progress in Delta state even our neighbouring state in Bayelsa would be commissioning two theirs by Twenty Nineteen.
When Asked what is Delta State waiting for?, Tpl Akporowho said his challenges again is that as a consultant, some members of their allied professionals looked at processes, it discovered it would require acquisition of land, survey, Geo-Technical studies and the environmental impact assessment (EIA) the requirement, we observed are so cumbersome and complex, essentially if one looks at the Bureaucratic process that was established by (DPR), there is no way that most of those having license to establish can progress to obtaining the approval to construct.
''Obtaining the approval alone is about fifty thousand dollars", "Minors the non-refundable funds of the processing fee, at every stage, you must spend a lot of money, the acquisition of land in Delta state is nothing to talk about. In Delta state alone, "I know close to about sixteen that have been given license to operate from ukwale down to itorogu area, to isoko near orgiri to ughelli and sapele, and you have all these proposed modular refineries spread across those locations. My challenges remain that the technical partners are not willing except you are able to match it with counterpart funding but the state government could have help in proving this counterpart funding''
'' I know of some communities that are providing lands as their own equity share through counterpart funding including mine own community which indeed came through as a result of my advice. In some other state like Edo for instance, every community that is willing to provide land, the state government gives out certificate of occupancy as their own contribution, it is the certificate of occupancy that gives the technical partners the assurances that your title document for your land for the project is in order, that's the first stage''.
He said In Delta state, you will spend much more money on land since the requirement of land in demand for the modular refinery is about fifteen acres, if the communities are willing to give their land then the government should support the community in whichever way they can, at least giving them a certificate of occupancy.
'' The last I recall in the processing of title document in the delta with coming with that amount of land, can't go less than seventy to one hundred and twenty million naira. So, if the government can support them with that, it would go a long way''. ''There was a community I know that went and negotiated with Delta State Oil Producing Areas Development Commission (DESOPADEC) requesting them to put all that is meant for them as counterpart funding proving modular refinery in their communities but the cost of doing the EIA is enormous with other processes''
The Former Secretary of the Nigeria Environmental Society appeals to the federal government to endeavour to give some waivers through the DPR and NNPC to those communities; "it is a best practice" If it truly it wants the whole development to progress.
He Said Issue of insecurity is no more an issue; because it has been overcome since the communities will be having equity shares in such business coming with social security.
''Let me remind us that the cost of establishing a ten thousand barrel of capacity per day of modular refinery rages from 42 to 60 million dollars depending on the location and that is using economy most viable and available technology so, it's a lot of funds, it something beyond the community because they have seen and feel the impact of the pollution that is being caused coming with illegal refineries now coming forward to partner by making land available since it will provide employment for them and discourage their children breaking pipelines, and pipeline being secured, "production will go up for both oil companies and government".
He said Once the pollution is stopped, the environment would be protected because once these illegal modular refineries are phased out it would reduce emission drastically and pollution of water and land would also be reduced and that's the point he added.
When Asked if with all said, would address environmental production and pollution, The Pioneer Secretary of Delta state chapter of Association of Professional Bodies of Nigeria said environment cannot be productive on its own except you allow the environment to regenerate its self, saying such thought could take years depending on the damage.
"There is what we call legacy pollution when you have a reoccurrence of spillage in a water body, for instance, you can have close to ten incidences of the spill, and that may come as result of the discharge of military bomb to pipeline network that would discharge on the environment". "The pipeline that those boys are going to tap on, they did it using valve on them and nobody seems to do anything about them, the more you do anything on them the more the boys approach other location and open them up" and if that persists, it would have more damages on the environment and the implication is its lingering effects''
Contact: Editor @urbanexpressnews@gmail.com